StenLight S7 Fact Sheet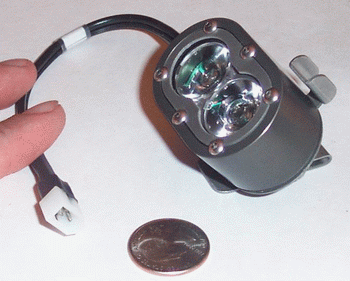 The StenLight S7 is a high powered LED lamp designed especially for the hostile caving environment. Mud, water, and shock-resistant, the S7 was designed by cavers to address the shortcomings of conventional cave lamps.
Key Features:
Brightest portable LED light available

Extremely long LED life (>20,000 hours)

Solid state and shock-resistant – no breakable filament or gas-filled tubes

Flicker-free all-analog control circuit provides current regulation at all brightness levels for constant brightness

Operates off any 6 to 18 volt DC power source

High electrical and optical efficiency make the most of your batteries (96% electrical efficiency from 7.2V, 93% from 12V)
Compact, rugged anodized aluminum case

Lightweight -- under 125 grams

Long throw, high durability magnetic switch

Water-resistant up to 25 feet (no moving parts penetrate the sealed lamp body)

Smooth, optimized beam pattern with user-swappable lens options

Temperature limiting to prevent overheating of LEDs or exterior

Four logarithmic brightness levels

Swivel bracket supports easy adjustment of a wide range of vertical angles
The StenLight S7 uses a high-efficiency all-analog control circuit that regulates LED current in all brightness modes, and limits itself to a safe temperature by reducing LED current when necessary. The magnetically controlled switch has 5 clearly-defined positions that are separated to avoid accidentally switching the unit off. The switch has no moving parts inside the lamp body, and is fail-safe – if the switch is destroyed or the magnet lost, the unit defaults to the LOW setting, which is still bright enough for you to find your way.
Brightness Settings Summary

Setting

Power Consumption

Run Time1

Light Output, min. lumens2

OFF

200 microwatts 3

20 months 4

-

LOW

100 milliwatts

> 3 days

3

MEDIUM

600 milliwatts

> 24 hours

12

HIGH

2 watts

7 to 8 hours

45

TURBO
thermal limiting

4 watts 5

3 to 5 Hours

70

TURBO
no limiting

7 watts 5

2 Hours

140
Technical Notes:
based on the StenLight (LG723) 2.3 AH 7.4V lithium ion battery, fully charged
calculated based on LED output and optical efficiency of lenses and front window
OFF mode consumes 25 microamps (typical) regardless of input voltage.
Consumption by StenLight only – does not include battery self-discharge
TURBO mode is typically limited to 4-5W for long-term use due to thermal limiting.
Technical Specifications

Weight

125 grams (4.4 ounces)

Dimensions (main body)

2.2"W x 1.4"H x 1.2"D (55 x 35 x 30 mm)

Dimensions (maximum)

2.7"W x 1.8"H x 1.7"D (68 x 45 x 41 mm)

including bracket, switch handle travel, and connector

Input voltage

7.2 – 18V (operating, Turbo mode)

5.3 – 18V (operating, Low mode, 25C)

-0.3 – 18V (nonoperating/off)

Temperatures

-40 – 140 F (-40 – 60C) (operating)

-85 – 194 F (-65 – 90C) (nonoperating)

Warnings:
As with any portable lamp, keep alternate light sources with you at all times.

The unit will become hot if used in TURBO mode for more than a few minutes. The temperature is regulated to prevent damage to LEDs and to prevent burns, but the lamp may be uncomfortable to hold, especially after an hour or more of TURBO operation.

Use only with approved batteries and cables. Connection to third-party batteries and cables is at the owner's risk – be aware that some third party products use the same connectors with reversed polarity, which could destroy the StenLight unit and/or the third party battery and could cause dangerous overheating of the cable, lamp, and battery.